Detail Specifications Multi cylinder installation is a concept of connecting multiple cylinders for bulk storage. Systems for multi cylinder installation are mainly classified based on capacity of cylinder. Cylinder capacities usually preferred for installation are 450 kgs, 47.5 kgs, 19 kgs etc.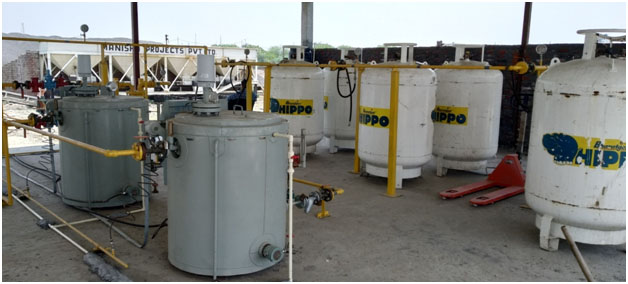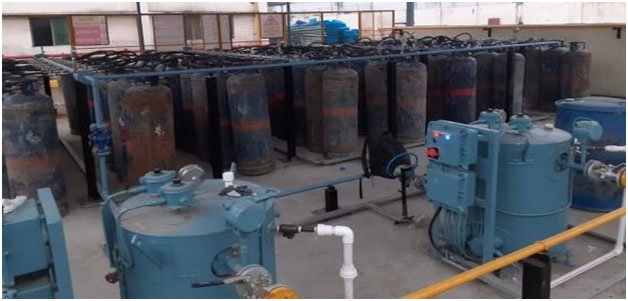 Optimal design and best engineering practices are key imperatives of a good LPG Installation. While executing LPG installation, Naveen Gas Service adheres to the highest standards of quality and safety and conforms to statutory guidelines.
Armed with technical expertise, experience and professionalism, we offer customized LPG storage solutions including design, installation and commissioning to suit your line of production. Our immaculate planning, timely procurement and perfect execution make it a safe and model LPG installation.
We offer design, installation and commissioning of Primary LPG manifold systems for both VOT and LOT Cylinders. The process begins with a full site survey, moving onto finalizing the best location, designing and implementing the suitable manifold installation that adheres to safety guidelines and good engineering practices. Our execution time is one of the quickest in the industry.

Benefits of Naveen Gas Service LPG Installation
• Top quality system design and engineering
• Use of industry-best specifications fully conforming to statutory norms
• Fast and efficient project execution
• Modular design and pre-fabricated manifold
• Quality workmanship
• Safe practices to go with robust safety features
• Minimal operation and maintenance costs

Installing your LPG system is easy, hassle-free and just a call away. You can completely rely on us for a safe, quality installation and seamless commissioning. Apart from equipping our systems with additional safety features, we will train you on safe practices and operations to avoid untoward incidents. If opted for, we also provide continual maintenance of your LPG system as a paid service to support you through the entire process. Post-installation, you can be completely assured of uninterrupted LPG supply, on time every time.